15605 Manchester Rd, Ellisville, MO 63011
636.527.6603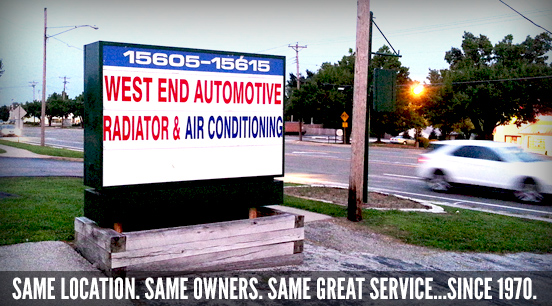 HEATING & AC SPECIALISTS
Is your heating or air conditioning not functioning properly? Give us a call!
SCHEDULED MAINTENANCE
Extend your vehicle's life by letting us perform your preventative maintenance.
FUEL TANK & RADIATOR RESTORATION
Motorcycle, Tractor, Antiques, Street Rods, Model A & Model T.
TUNE UPS, BELTS, HOSES AND MORE!
Give us a call, we can help you!
Our Services
Heating
Air Conditioning
Brakes
Fuel Tank Restoration
Radiator Restoration
Tune Ups
Scheduled Maintenance
Batteries
Oil Changes
Belts & Hoses
Fuel Injection
Fuel Pump
Wheel Bearing
And More!
Monday - Friday : 8:00am - 5:00pm
Saturday: Closed
Sunday: Closed

Night Drop Available
"I am extremely impressed with Mike from West End. I was referred to him by my father and am glad to recommend him to anyone that may read this review. Mike repaired the condenser on my Black '07 Expedition EL prior to the 8 day streak of triple digit weather we had here in St. Louis in July. I brought it back to him because it just didn't feel like it was cooling as much as I'd remembered. Mike evacuated the freon, did a complete dye test and refilled the system. I just got off the phone with him and asked how much I owed him. His answer, "I'm not going to let you pay me anything, I want to sleep at night knowing we did the job well." He's earned my business for life, and I hope this review will earn him yours as well. If you are looking for an honest repair facility for A/C work I strongly recommend talking to Mike from West End."
Ryan Leslie
Ballwin, MO